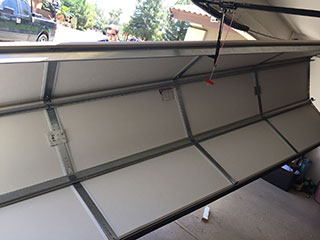 Garage door systems are tough and built to last, but they can still develop problems from time to time. When these issues arise, our technicians will be on hand to help you solve them. When it comes to garage door systems, we can handle anything, from broken springs and damaged tracks to opener malfunctions, and much more besides.
Failed And Worn-Out Springs
All doors rely on a set of springs to help bear the door's weight. The strain of lifting a 150+ pound door day after day inevitably causes these springs to wear out, and after a few years they will likely need to be replaced. Our technicians will be able to quickly and safely remove your old springs before attaching a new set - this job should only be carried out by trained professionals, so be sure to arrange an appointment with our team.
Fixing Track Problems
Your door needs to travel smoothly along its tracks whenever it moves. Dents, dirt or damage can cause significant wear and tear, and even knock the garage door off track. If this happens our technicians will examine the system for signs of the root cause, look for dented or loose tracks, any built-up grime or signs of an improperly aligned track. By applying lubricant, removing dents and adjusting the track, our team will be able to return your door to perfect working condition once again.
Internal Opener System Malfunctions
The opener is the most complex unit in your garage door system by a long way, and can develop a range of issues all of its own. One issue that's particularly hard to pin down is a malfunctioning circuit board, since this can present a wide range of different symptoms. Our technicians have worked with hundreds of different opener units from all makes and manufacturers, meaning we can quickly track down a malfunctioning circuit board and replace it.
Contact Our Team Today
Our technicians can provide a solution for a wide range of different problems. No matter what you're experiencing, our team will be able to provide a fast and reliable repair service. For emergency repairs and safety checks, expert maintenance and door or opener installations, contact Garage Door Repair Cupertino today!
Want more? Let us take care of:
Garage Door Opener Maintenance
New Opener Remote Controls
Extension Spring Adjustment
Damaged Parts Replacement