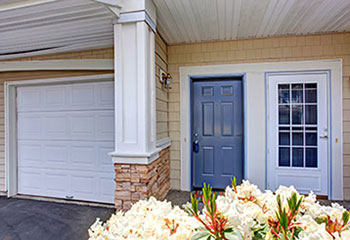 Your garage doesn't have to be a boring, utilitarian space. With a pinch of creativity and a bit of work, you can make it an aesthetic credit to your home and neighborhood. There's no shortage of ideas, products, and templates for decorating your garage door online, but if you want some ideas on where to get started we've listed a few starting points for you, as well as some advice on preventing mishaps!
Use The Right Paint
Most automatic garage doors are made of steel or aluminum panels, which will expand or contract slightly when the weather gets warmer or cooler. Because of this, most paints will crack and flake off quickly, especially if you only apply a thin coat. To make sure the color lasts beyond the current season, use a heavy-duty latex paint, and use plenty of it. If your door is made of wooden or plastic panels, normal wall-paint should be sufficient but you should make sure it's made for exteriors and has some degree of weather-protection.
Think About Aesthetics
Ideally, your garage door should be painted in a way that complements the rest of your house, but you don't need to stop at just painting it one solid color. While a loud, flashy street art style look might be overdoing it, some patterns and shading might well be possible. You could even adopt a theme for your door, or consider a professional garage door sticker. If you want to spruce up your door even further, decorative accessories such as handles and magnets are available in a wide variety of looks and styles.
Be Careful While Working
Never forget that your door is a machine, and one that should be handled with care. Its probably best if you disconnect the opener and leave the entire system powered down and locked in the closed position while you're working on it. It's also a good idea to leave the system unplugged until the paint dries. If you're going to attach decorations like handles to your door, make sure that they won't cause any jamming or grinding problems - ask a professional to make sure.
If you want to know more about what you can do with your overhead door, and how to do it safely and inexpensively, give us a call right now at Garage Door Cupertino!